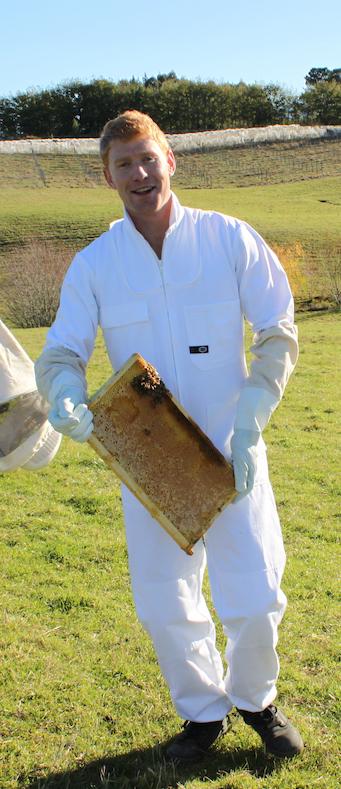 Nelson bee venom 
Topical application of bee venom 'tricks' the skin into feeling it has been lightly stung – this painlessly and gently stimulates the skin, boosting the production of collagen and strengthening the skin. Bee venom has anti-inflammatory and anti-microbial properties. We collect our bee venom using an advanced state of the art European bee venom collector. The collector is placed in front of the hive and the bees are irritated with a gentle electrical stimulus and they respond by stinging the glass plate of the collector. However, unlike when they sting the skin, they are not harmed as their stingers do not penetrate the glass and their stingers are not left behind. Our bees then happily continue on with their honey making in the vineyards and fields of our lovely sunny region. 
Golden Bay manuka honey 
This delicious active honey comes from the pristine Golden Bay area from bees that collect pollen from the native New Zealand manuka bush. Research has demonstrated that manuka honey has antiseptic skin healing and anti-bacterial properties.
Organic Avocado Oil 
Is packed full of vitamins A, D and E. Avocado oil helps keep skin moist and rejuvenated and reduces itching, dryness, sun-damage and age spots. 

Organic Almond Oil 
Rich in vitamin D, almond oil moisturises and softens the skin. It is particularly nourishing when used regularly. 

Beeswax Another lovely bee product and beeswax draws moisture to the skin and helps seal it in. Containing vitamin A, it softens and moisturises dry damaged skin. 

Organic Coconut Oil 
Is rich in essential fatty acids. Coconut oil is a safe, easily absorbed moisturiser for all skin types, it prevents dryness, delays wrinkle formation and promotes silky smooth skin. 

Organic Cucumber Extract 
Nothing says eye soothing better than cool cucumber slices. Our organic cucumber extract with active vitamin C and caffeic acid refreshes weary eyes and reduces swelling and dark circles under the eyes. Perfect to sooth the delicate eye area. 

Cetearyl Olivate/Sorbitan Olivate 
These emulsifiers blend together our creams, waxes, extracts and oils. It is derived from olive oil and combined with sorbitol (the alcohol form of naturally derived sucrose) and the natural emulsifying wax ceteayl alcohol. It promotes water retention and is an effective moisturiser in its own right. 
Glycerin
Has a water binding property that helps the skin retain moisture. Our glycerin is derived from a purely renewable vegetable based origin.
Organic Jojoba Oil
With its vitamin A and E, jojoba oil has exceptional skin softening properties and minimises wrinkles to prevents skin dehydration. With anti-inflammatory, antibacterial and anti-oxidant properties, this oil soothes and strengthens the skin.
Organic Macadamia Nut oil
Perfect for delicate skin this non-greasy oil contains palmitoleic acid, this is credited with reducing the rate at which skin matures. Used regularly this lovely light oil moisturizes and softens the skin and gives dry or damaged skin an added glow.
Organic Nettle Extract
Has for centuries been used as a medicine and food source. It has properties that may reduce inflammation, clearing the skin and making it healthier.
Organic Papaya Oil
Rub the inside of fresh papaya skin on your face and you will understand that this is a delicious skin renewal treat! With its natural fruit enzyme papain, papaya helps brighten the complexion by gently removing damaged or dry skin cells. This assists in the renewal of the top layer of skin cells and fights deep wrinkles and sun spots.
Organic Rosehip Oil
High in vitamin C and Omega 3 and 6 rosehip oil boosts skin renewal and elasticity. Although scientific evidence has demonstrated the properties of Rose Hip Oil in reducing scar tissue, the most effective way to benefit from rosehip oil is by using it as a skin moisturiser.
Organic Shea Butter Is a soothing cream with anti-oxidant properties similar to virgin olive oil. It draws moisture to the skin and seals it against the skin.
White Tea Extract With its powerful anti-oxidants it shows promising effects for its protection against skin damage through an anti-inflammation action to improve of skin cell characteristics – slowing the breaking down of collagen and elastin.
Organic Argan Oil
This difficult-to-produce oil originates from the Argan Forests of Morocco where it is sustainably harvested by the Berber women. Used for centuries for its purported anti-ageing and restorative properties the Moroccans call Argan Oil 'Liquid Gold'.
Organic Avocado Oil
A rich source of vitamins A, B1, B2 & D this oil rejuvenates the skin and is credited with collagen-boosting properties making it ideal for mature skin.
Citric Acid
Produced from fresh citrus juice this is a natural preservative that promotes antioxidant support and is a natural anti-bacterial product that promotes skin toning.
Glyceryl Stearate, Sodium Stearate
These waxy solids are used to blend and emulsify the botanical extracts and oils. Glyceryl Stearate lubricates the skin giving it a smooth and soft appearance.
Organic Lemon Myrtle Extract
Research out of Charles Stuart University has indicated that problem skin may benefit from the very powerful antimicrobial and antifungal properties of this extract.
Organic Olive Leaf Extract
This lovely skin conditioning extract promotes antioxidant support against free-radicals. Like honey it has natural anti-microbial and anti-bacterial properties.
Organic Safflower Oil
Exceptionally rich in vitamin E antioxidant this oil functions as an emollient trapping moisture in the skin keeping it hydrated and moisturised.
Organic Apricot Kernel Oil
This wonderful oil has been used for centuries in traditional Chinese medicine to treat skin conditions. It is a natural anti-inflammatory rich in vitamins A, C and E. This oil provides nutrition and support to the skin and reduces premature aging. It is very suitable for use on sensitive skin. It has anti-bacterial and anti-oxidant properties and is readily absorbed by the skin.
Organic Blackberry Seed Oil
A superb oil for mature and dry skins. Blackberry Seed oil nourishes and repairs dryness. This lovely oil softens and rejuvenates; it is naturally rich in the antioxidants from Vitamins C and A and a natural source of Omega 3, 6 and 9. Another breakthrough ingredient in top European skincare lines, this oil reduces dryness and lines and promotes smooth supple skin.
Organic Evening Primrose Oil
Famous for centuries this medicinal oil is derived from the seed pods of the evening primrose plant. Used in both dietary and cosmetic preparations evening primrose oil derives its soothing properties from high concentrations of a natural fatty acid GLA (gamma-linoleic acid). Very few plants contain GLA and this important ingredient supports cell-structure and elasticity of the skin. This dry oil naturally retains moisture content on the skin.
Organic Pomegranate Seed Oil
This extremely rich and nutritious oil is great for the skin as well as the diet! This beautiful oil is derived from the jewel-like fruit of the Pomegranate and promotes the skin's natural renewal process. The oil is naturally rich in antioxidant vitamins and Punicic acid (Omega %) and revitalizes mature skin preventing premature aging. It has natural healing properties and absorbs easily into the skin without leaving a greasy residue.
Organic Raspberry Seed Oil
This oil sounds good enough to eat and indeed it is used in nutritional supplements. It is a wonderful ingredient to cosmetics with natural anti-inflammatory properties. Raspberry Seed Oil contains high proportions of Omega 3 and 6 (natural fatty acids). It also naturally contains high levels of anti-oxidants from vitamins E and A – these support mature skin conditioning and repair. Trending now in exclusive European skincare ranges.